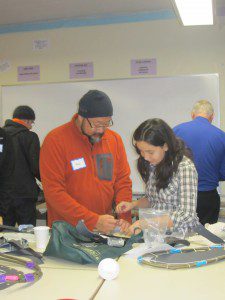 Parents of Explorer West students are not on the outside looking in, but integrated into the school's small, learning community through a variety of avenues. The Parent Community Network (PCN) at Explorer West Middle School is a parent-led group that welcomes new and current parents and connects them with each other. The PCN introduces ways to get involved in the school community and provides educational opportunities.
It's never too little or too late to get involved in the school. Whether you have just a few hours a year or want to lead a major initiative, here are a few examples of how parents can participate:
Chaperone a winter trip, field trips, school dance, etc.
Volunteer with the admissions office
Serve on Board committees
Work on facility upgrades
Support administrative team on various projects
Chair fundraising events
Bake treats for Arts/Music Night festivities
Write grants
Serve as Spanish Translators
Parents can choose volunteer preferences at the beginning of each year via the on-line parent volunteer survey or respond to individual requests for volunteers throughout the year. Check the bullion board at the front of the school for information and opportunities.
Parents who donate their time and expertise provide Explorer West with the additional resources needed to deliver on our mission. Getting involved is a wonderful way to meet the staff, faculty, students, and other families.
For more information about the PCN and volunteer opportunities, please contact our PCN leaders at ewpcn@explorer-west.org.