Each student's experience is unique at Explorer West Middle School. Here's how a 7thgrade student might spend their day.
A Typical Day in the Life of an Explorer West Student
This morning I was picked up by the carpool. Like most mornings, we talked on the ride about last night's homework, the schedule for today and upcoming tests – plus, played some music that drove the driver a little crazy. We were dropped off ten minutes early, giving me just enough time to stop by my locker and pick up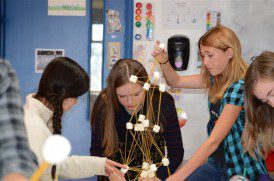 my books for my next two classes, science and music.
During science, we talked about different bacteria and continued working on our slide shows for next week. In music, we worked on our instrumental piece for our upcoming Arts Night. Next, we had break and my friends and I had a snack and prepared for next class.
In Latin, we worked in our textbooks and talked about the Rome trip coming up in 8th grade. I am so exited to explore such a great place with all my friends next year! Our last class before lunch was History, so I crossed the hallway to that classroom. During class, we edited our essays about who we believed discovered America.
At lunch, my friends and I went outside to eat and afterwards we had a big game of capture the flag with some 6th graders. After lunch, we all went inside for our 15 min. SSR (silent sustained reading). Next we had a double period of art (love when that happens). In art class, we were making clay boxes that were going to be fired in the kiln next week. Our last class was English where we discussed the novel The Joy Luck Club.  A busy day, but I still have energy for track practice before heading home to rest and (of course) tackle some homework.