Founding:
Explorer West Middle School was founded in 1996 as an independent school specializing in teaching grades 6th, 7th, and 8th.
Location:
South West Seattle (between White Center and Arbor Heights), 10015 28th Avenue SW, Seattle, WA 98146
Accreditation:
National Association of Independent Schools
North West Association of Independent Schools 
Member of Puget Sound Independent Schools

2017-2018 Enrollment:
Enrollment: 109 students from 41 feeder schools
Average number of students per classroom: 18
Student/faculty ratio: 8:1
Student Tuition and Financial Aid

Please see information on the Tuition and Fees page.
Percent of students receiving financial aid: 32%
Aid as percentage of Total Tuition Revenue: 21%
Diversity:
Students of Color: 30%
Faculty/Staff of Color: 20%
Open Houses:
Please visit our Fall Open House Page for more information and to register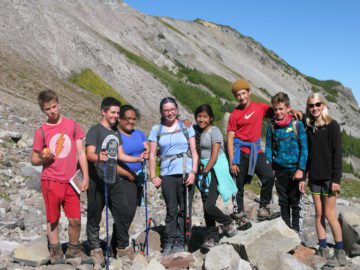 Also Visit us at the following Fairs:
Independent School Fair For Students of Color
Every October
Seattle Independent School Fair
Every November
Admissions Dates:
Applications Materials Due: January 11, 2018
Financial Aid Applications Due: February 8, 2018
Admissions Decisions Mailed: March 16, 2018
2017-2018 Program Highlights:
• Backpacking in the Alpine Lakes Wilderness and Olympic National Park
• Judges Choice Winner for the Environmental Issues Slam
• Participation in the ACT Theatre's Young Playwrights Program
• 8th Grade Change the World Project
Things to Know:
Over 50% of all Explorer West Middle School students car pool
100 Chrome books available in classrooms for student use
Mixed-grade level advisories
Native plant garden
After-school care and enrichment programs available
Co-ed Soccer
Girls Volleyball
Boys Basketball
Girls Basketball
Co-ed Ultimate Frisbee
Co-ed Track
Co-ed Tennis
Academics:

Average Amount of Homework per night:
6th grade: 60- 90 minutes
7th grade: 90- 120 minutes
8th grade: 90-120 minutes
Enrichment Programs:
Trips provide students with opportunities to explore the natural world around them and to experience and observe ecosystems, geology, natural history, and local geography for themselves – actively learning about these things in ways not possible in a classroom.
In three years at Explorer West, students will develop skills such as:
Minimum Impact and leave no trace camping practices
Map reading and navigation skills
Basic first aid
Leadership and cooperation
Reflection and self-examination
33 days spent outdoors in three years at Explorer West
Sustainability:
Sustainability is central to Explorer West's mission and influences all aspects of the school such as: curriculum, community outreach, facilities management, student leadership, fundraising events, community partnerships, and more. Explorer West has been honored both regionally and nationally as a leader in the field of sustainability initiatives and curriculum.
Explorer West won the NAIS Leading Edge Award for Environmental Sustainability and is also members of the Green School Alliance. Other awards include the King County Earth Heroes Award and the Terry Husseman Environmental Curriculum Award.
Community Service:
Explorer West is committed to fostering a relationship of giving between Explorer West students and other youth, the environment, and the greater local community. Students work in multi-age groups to plan and execute one project per month during the school year.
Community Service Projects include:
Barton P-Patch
Team Read at Roxhill Elementary School
Planning trees at West Seattle Orchard
Food drives and hands-on distribution at White Center Food Bank
City of Seattle Adopt-A-Street Program